Industry Standard QSC K-Series Loudspeaker Systems-What Specialties & Specs? 
K12.2 QSC K Series Portable speakers which are in their second generation are the Industry standard Installed Sound/Portable Speakers in India. The range consists of 3 Models: The smaller QSC K8.2, 10Inch QSC K10.2 and the top end QSC K 12.2.
Performance: The Second Generation, QSC K Series is the Reference-quality, Industry-standard in powered loudspeakers in India today. Compared to the previous generation, the latest QSC K Series has gone through a lot of desirable Technical and aesthetic changes.
All the three models in the Second Generation, QSC K Series speakers now have 2000-watt power modules that offers perfect integration & tonal balance with the high-quality woofers and compression drivers/tweeters.
Patented Directivity matched transmission technology ensures superb coverage (Up to 105 degrees) across the listening area and the onboard DSP features Intrinsic Correction™ voicing and advanced Contour settings to improve the overall audio performance.
Flexibility: The QSC K.2 Series is an extremely versatile and user-friendly speaker range that can act as the primary PA system or as a Floor monitor when the situation demands. These QSC Speakers can be wall-mounted, mounted on a Speaker Pole or flown from the ceiling in a Pub environment.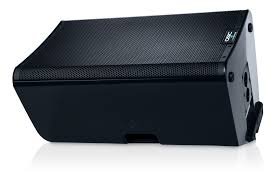 It can work straight or get tiled down to a degree of 7.5, making it an excellent choice for Restaurants, Clubs, Auditoriums and other types of installed sound applications.
Ease of Use: Using the QSC K12.2 or its siblings is effortless, all thanks to the factory-fitted presets. The Operator can even save his user-adjustable parameters according to his taste and needs. To top it all, the user can store the settings as recallable scenes, helping sound engineers who produce shows at the same venue repeatedly.
Unlimited factory presets:
The QSC K Series K12.2 Speakers by default have numerous factory presets that helps save time and provide professional results.
Stage monitor
Dance music
Vocal monitor
Instrument amplifier
and more
User-adjustable Settings:
Along with the factory presets, inbuilt dynamic and frequency adjustment settings helps the user in tailoring the sound according to his needs.
EQ
Delay
Input configuration
Crossover
and more

Salient Features of QSC K Series 12.2 Loudspeaker:
High Power PA speaker system with 12″ LF driver and 1.4″ HF compression driver
2,000W, Class D power module
User-adjustable control for greater flexibility
Savable/recallable Scenes make repeated setups very easy.
Works as a floor monitor if the situation demands
Factory presets that can allow the system to get adopted to any audio environment
QSC K Series K-12.2 Technical Specification:
Powered: Yes
Power Configuration: Bi-amped
LF Driver Size:12″ woofer
HF Driver Size:4″ titanium compression driver
LF Driver Power Amp:1800W
HF Driver Power Amp:225W
Total Power:2000W
Inputs:2 x XLR-1/4″ combo (mic/line), 1 x 1/8″ (aux stereo in)
Outputs:2 x XLR (thru), 1 x XLR (mix out)
Frequency Range:45Hz-20kHz
Frequency Response:50Hz-20kHz
Maximum Peak SPL:132 dB SPL @ 1m
Horizontal Coverage Angle:75 Degrees
Signal Processing: EQ, Delay, Dynamics, User Scene Presets, Crossover
Enclosure Material: ABS plastic enclosure with 18 AWG steel grille
Mounting Options: Pole Mount with 1.37″ socket, Floor Wedge, 2 x M10 Fly Points
Height:7″
Width:14″
Depth:8″
Weight: 17Kg.
Symphony 440 Design Group is one of the authorized QSC dealers in India with a complete understanding of the proprietary technologies of the brand and Audio knowledge necessary to offer Professional Audio solutions for Corporate offices, Hotels and Restaurants, Auditoriums and residential buildings.
Call us@99861-65200 for Free Product Recommendation & Technical Consultation today!